Micca 15-Inch Digital Photo Frame (M1503Z)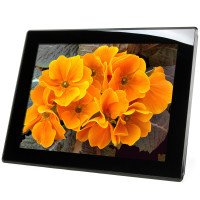 The Micca M1503Z displays your treasured photos and memories with incredible image quality. With its 15-inch high resolution Natural-View LCD screen, your photos are shown with rich and vibrant colors and remarkable detail. See the texture of a leaf, stars in the night sky, or freckles on a smile – everything that tells the story of a captured moment.
Easy to Use
The Micca M1503Z is very easy to use, with no required setup and no software to install. Just load the included 8GB USB flash drive with photos into the photo frame, turn it on, and the slideshow will automatically start. You can even take a SD card from a camera and play photos from it directly without any additional processing. With a built-in On/Off timer, the M1503Z can automatically turn itself on and off based on a flexible schedule – perfect for the office.
Beautiful and Green
The sleek and elegant M1503Z is less than 1.5″ thick, with a mirrored acrylic front and sculpted back, delivering a beautifully modern and sophisticated look. It is also very energy efficient, consuming only 14 watts of power in use, or about the same as an energy-saving CFL light bulb
Multimedia Experience
In addition to photos, the M1503Z also plays videos and music through built-in stereo speakers or the headphone jack. A compact IR remote is included for convenient access to playback controls.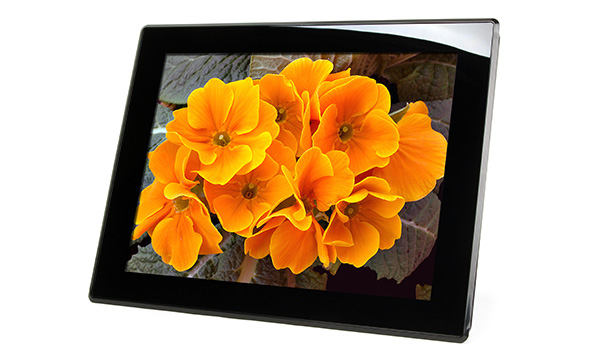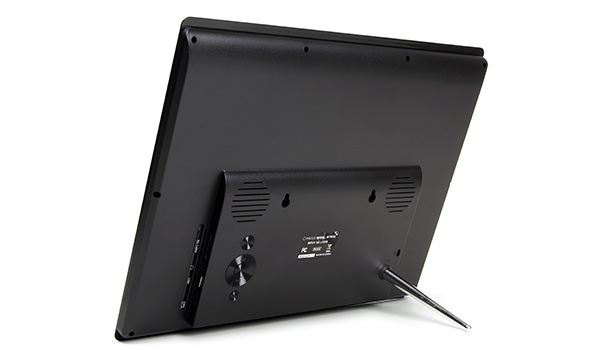 Feature Highlights:
Vibrant 15-Inch Natural-View 4:3 High Resolution screen
Convenient full function IR remote control
Slideshow with transition effects and background music
Displays photos in popular JPG format
Enjoy listening to MP3 with built-in stereo speakers
Plays standard definition MPEG1/2/4 Format AVI/MP4 video files
Useful calendar and clock display with alarm function
Auto power On/Off scheduling conserves energy
Reads directly from SD/SDHC Cards and USB flash drives
Specification:
15-Inch Natural-View 1024×768 LCD Display
SD/SDHC Flash Memory Card Reader
Reads USB drives up to 32GB
Reads SD/SDHC cards up to 32GB
Picture Format: JPG
Music Format: MP3 up to 320kbps
Video Format: AVI MP4 files, MPEG1/2/4 video, MP3 audio
Power Consumption: 14 Watts
What's Included:
Micca M1503Z Digital Photo Frame
8GB USB Drive
Screw-in stand
IR Remote Control
Owner's manual
110-240V AC Adapter
User's Manual:
Micca M1503Z User's Manual (opens in a new tab/window)
Firmware Updates:
Micca M1503Z 20170619
This firmware is for Micca M1503Z digital photo frames that have a serial number starting with "M1503APF". The serial number is located on the label on the back of the photo frame. If your M1503Z photo frame serial number does not start with "M1503APF", please use the support tab to contact our support team to receive the download link for your M1503Z photo frame. Do not use the firmware for any other model number. Be sure to provide the serial number from the back of your photo frame in your inquiry.
Download

WARNING: ONLY FOR M1503Z, DO NOT USE ON ANY OTHER MODEL!!!
Installation Instructions:
Relase Notes:
Improves support for certain JPG encoding methods.
New updated user interface.
Fixes handling of photos with EXIF rotation flag value for 180 degrees.
Improves efficiency and responsiveness when processing progressive JPG files
Fixes choppy sound for background music when displaying certain photo types.
Fixes Fixes an issue where certain types of filenames causes the photo frame to reboot
Fixes decoding errors for photos with resolution higher than 4000×4000
Fixes compatibility issues with certain brands/types of memory cards
General stability improvement
Micca M1003Z, M1203Z, M1503Z
Have a question or encountered a problem using this product? Please open an email support ticket: