Micca NEO Slim Metal Series Digital Photo Frame (M709A, M803A, M973A)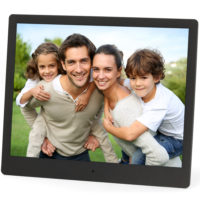 Where to Buy
Bulk Purchase
Easy to use by design, Micca NEO photo frames are ready to go right out of the box. No complicated setup, simply insert a SD card or USB drive with photos, turn it on, and it does the rest. All you and your loved ones have to do is sit back and relive those treasured memories.
Stunning Visual Quality
The NEO series is our best digital photo frame, with exclusive design and premium materials and construction. Regardless of size, every NEO photo frame has a high resolution LCD screen with vivid colors and in exquisite detail. Along with excellent brightness and view angles, your photos will look stunning from anywhere in the room.
Flexible Operation
Get full control over your photos and how you want them displayed, whether in random or sequential order, cropped or framed format, plus a selection of transition styles to help you dial in the perfect visual effect.
Thoughtful Design
The sleek metal main body is less than 4mm thick, presenting a modern minimalistic apperance. All controls and connections are tucked away in a small pod on the back that doubles as a table top or shelf stand, opening up possibilities to creative placements anywhere in the home or office.
Automatic On/Off Control
Timer based automatic on/off control is convenient and saves power. Set the photo frame to start and stop based on a daily, weekday, or weekend schedule – perfect for both the home and office!
Multimedia Experience
In addition to photos, NEO photo frames also play popular video formats including MP4 and MKV videos encoded with H.264 and MPEG4, at resolutions up to 720p. Enjoy your favorite MP3 music files played through the speaker or headphone jack.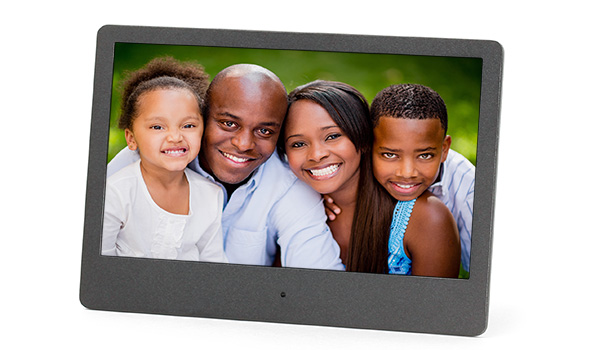 M709A
7″ Widescreen
Digital Photo Frame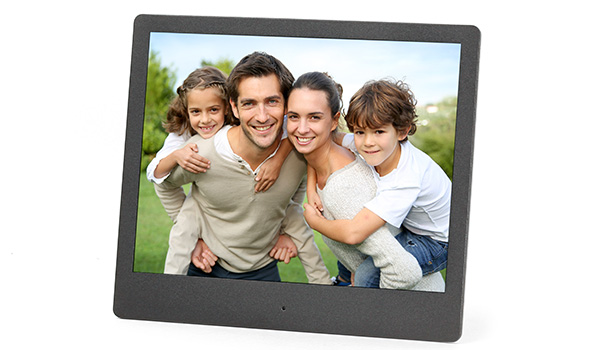 M803A
8″ Natural-View
Digital Photo Frame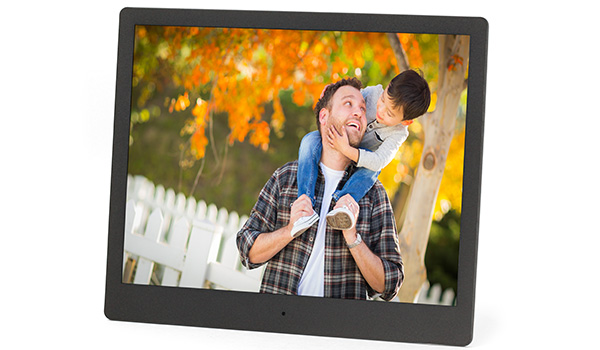 M973A
10″ Natural-View
Digital Photo Frame
NEO Slim Metal Series
Ultra-thin and modern design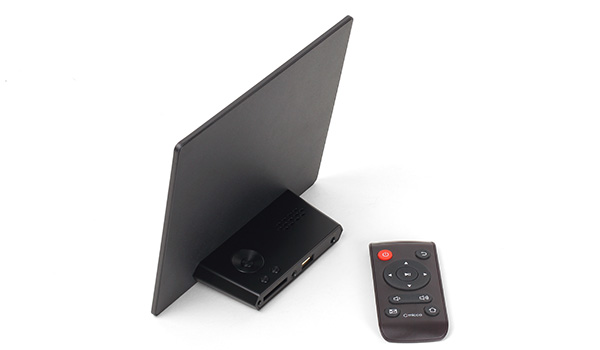 NEO Slim Metal Series
Ergonomic remote control
M709A
7-Inch Digital Photo Frame
7 Inch 800×480 LCD
16:9 Widescreen
Ultra-slim metal frame
8GB Storage Media
Buy Now
M803A
8-Inch Digital Photo Frame
8 Inch 1024×768 LCD
4:3 Natural View
Ultra-slim metal frame
8GB Storage Media
Buy Now
M973A
10-Inch Digital Photo Frame
10 Inch (9.7″ actual) 1024×768 LCD
4:3 Natural View
Ultra-slim metal frame
8GB Storage Media
Buy Now
Feature Highlights:
Vibrant 7, 8, or 10 Inch High Resolution screen
Convenient full function IR remote control
Slideshow with transition effects and background music
Displays photos in popular JPG format
Enjoy listening to MP3 with built-in stereo speakers
Plays MP4 and MKV videos up to 720p using MPEG4 and H.264 encoding
Useful calendar and clock display with alarm function
Auto power On/Off scheduling conserves energy
Reads directly from SD/SDHC Cards and USB flash drives
Specification:
M709A: 7-Inch Widescreen 800×480 LCD Display
M803A: 8-Inch Natural-View 1024×768 LCD Display
M973A: 10-Inch Class (9.7-Inch Actual) Natural-View 1024×768 LCD Display
SD/SDHC Flash Memory Card Reader
Reads USB drives up to 32GB
Reads SD/SDHC cards up to 32GB
Picture Format: JPG
Music Format: MP3 up to 320kbps
Video Format: MP4 MKV files, MPEG4 and H.264 video, MP3 audio
Power Consumption: 7 Watts
What's Included:
Micca Digital Photo Frame
8GB Storage Media (M973A Only)
IR Remote Control
Owner's manual
110-240V AC Adapter
User's Manual:
Micca M709A, M803A, M973A User's Manual (opens in a new tab/window)
Firmware:
Micca Neo Series Photo Frames
Have a question or encountered a problem using this product? Please open an email support ticket: