Micca MB42 4-Inch Bookshelf Speakers
The Micca MB42 bookshelf speakers render an amazing listening experience while taking up very little in space or budget. Handsomely styled with classic appearance and natural textures, the MB42 is easy to place and blends into any room or decor. Its well balanced sound signature and vocal clarity are a great fit with a wide range of usage scenarios, from background music to home theater.
The MB42's design starts with carefully picked drivers that mesh perfectly in the critical crossover overlap region. It incorporates a balanced woven carbon fiber woofer for enhanced transient and impactful bass, and a high performance silk dome tweeter for smooth treble and accurate imaging. The drivers are housed in a ported enclosure that delivers extended bass response with low distortion. Full size 5-way binding posts provide the full complement of speaker wire connectivity options. Hex screws are used throughout for assembly.
Hearing is believing. Discover how good an affordable pair of speakers can be by trying them risk free in your home with your music. Place the MB42 along a wall or near a corner of the room for best results. They can be used on desks, book/wall shelves, or on speaker stands. If you are not absolutely delighted with the MB42's performance, simply return them for a refund.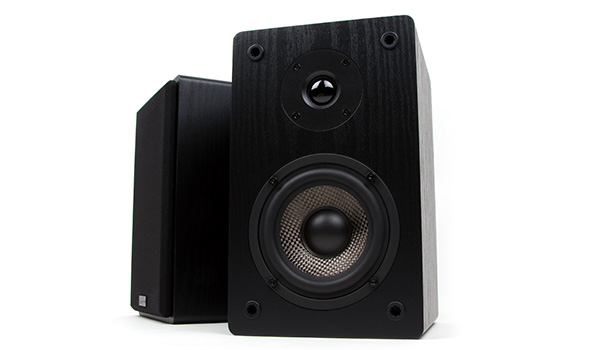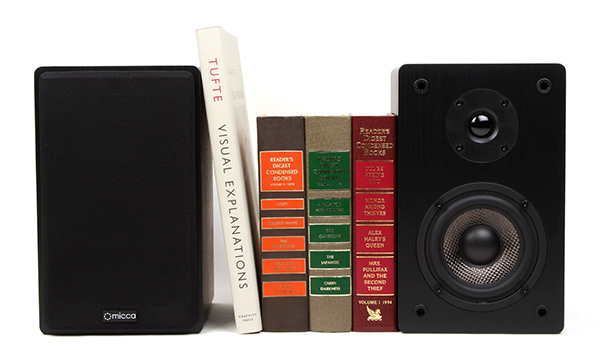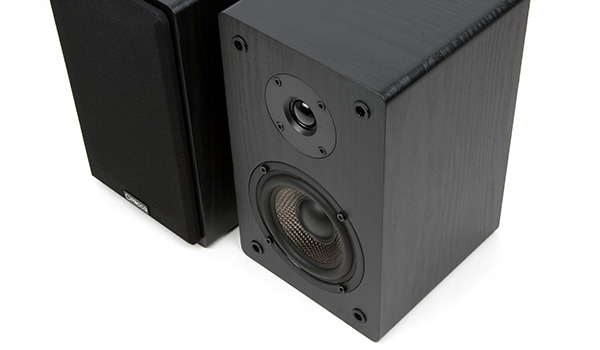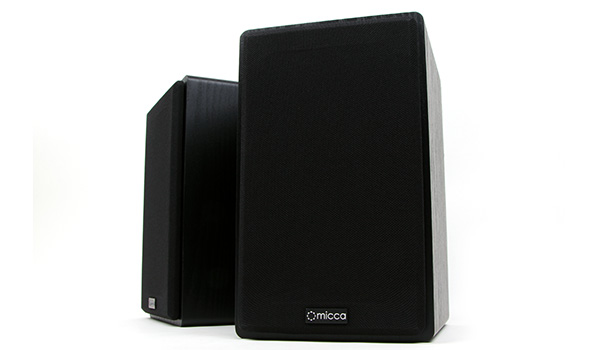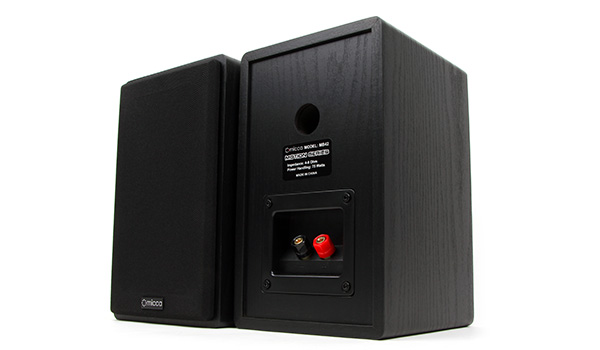 Feature Highlights:
Balanced woven carbon fiber woofer for enhanced transient and impactful bass
High performance silk dome tweeter for smooth treble and accurate imaging
Ported enclosure delivers extended bass response with low distortion
Neutral and accurate sound signature with excellent vocal clarity
Compact classic design is easy to place and disappears into any room or decor
Ideal For:
Personal stereo system, such as office, bedroom, or dedicated 2-channel stereo.
TV sound and light duty home theater use.
Specifications:
Micca MB42 Specifications:
Woofer: 4″ Carbon Fiber Cone with Rubber Surround
Tweeter: 0.75″ Silk Dome
Enclosure: Ported
Frequency Response: 60Hz-20kHz
Impedance: 4-8 Ohms
Sensitivity: 85dB 1W/1M
Power Handling: 75 Watts (Each)
Dimensions: 9.5″ (H) x 5.8″ (W) x 6.5″ (D)
Package Dimension: 16.7″ (W) x 11.2″ (H) x 7.8″ (D)
UPC: 741360331235
User's Manual:
Micca MB42 User's Manual (opens in a new tab/window)
Bookshelf Speakers
Micca is one of the few manufacturers that specifies the impedance of its speakers as a range, rather than a fixed nominal value. The impedance of a speaker varies depending on the frequency being played, and it is normal for most 8ohm rated speakers have impedance that dip as low as 4ohms or even lower.
While the Micca speakers work just fine with most amplifiers and receivers rated for speakers designed to handle 6ohm or 8ohm speakers, the 4-8ohm rating is a reminder to users that these speakers do have impedance that go down to as low as 4ohms and care should be taken with the listening volume so as not to damage the amplifier or speakers. Please observe the following precautions:
Do not play the speakers at a volume where there is audible distortion
If the amplifier's output protection is triggered, immediately discontinue use
Ensure that the amplifier has plenty of ventilation and is not in an enclosed space
If the amplifier has a "4Ohm" or "High Current" mode, enable it
Posted in: Micca MB42, Micca MB42-C, Micca MB42X, Micca MB42X-C
At Micca, we continuously look for ways to improve our products for better performance, quality, and value. Since introduction, MB42X and MB42X-C speakers have undergone evolutionary updates as described below:
Original Release – Based on MB42, with the following differences
8-element 12dB/Octave crossover upgrade
Matte black vinyl
Magnetic grill system.
MKII – Serial numbers start with "MB42XMKII" or "MB42XCMKII".
Slight adjustments to woofer and tweeter response characteristics
Flared plastic port tube (MB42X only)
Additional internal bracing at four side enclosure walls
Poly fill stuffing added
MKIII – Serial numbers start with "MB42X3" or "MB42XC3"
9-element 18dB/Octave crossover
Tighter driver response tolerance
MKIII crossovers are backwards compatible with all previous versions and provides the following benefits:
Steeper slopes for reduced distortion and acoustic lobing
Adjusted roll off frequency for improved phase integration
Updated driver level matching to result in overall smoother response
Posted in: Micca MB42X, Micca MB42X-C
Have a question or encountered a problem using this product? Open an email support ticket: