Micca M-8C/M-6C In-Ceiling Speaker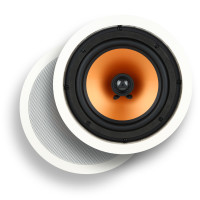 The Micca Media Series of in-wall and in-ceiling speakers have been designed for optimal performance in a wide variety of home entertainment applications, from providing relaxed background music, to a high impact 7-channel home theater system. Built with high quality components and rigorously tested design, Media Series speakers deliver exceptional value and are well reviewed by owners and critics.
Value and Performance
Media Series speakers are sold factory-direct, a highly efficient business model that allow more of the cost to go into component quality and design tuning. Each speaker is built with high grade drivers and crossovers. As a result, Micca Media Series speakers are exceptionally well performing as well as affordable.
Application and Usage
The M-8C utilizes a classic 2-way design in a coaxial form factor. It is well suited to a variety applications and mounting locations depending on need:

In-ceiling as background music or recreation room speakers
In-ceiling or in-wall as surround speakers in a home theater
In-wall as front or center speakers in a home theater
Selection Considerations
The M-8C and M-6C shares common components and design with other M-Series in-wall/in-ceiling speakers, making for a perfect tonal match when mixed and matched. For a given installation location, it is always recommended to install the largest M-Series speaker model that will fit. Doing so provides the fullest sound and best performance at all playback levels. Where larger M-8S and M-8C speakers will not fit, the smaller M-6S and M-6C speakers can be used instead. The M-8C/M-6C can be installed in-ceiling or vertically in-wall in situations where the rectangular M-8S/M-6C models do not fit.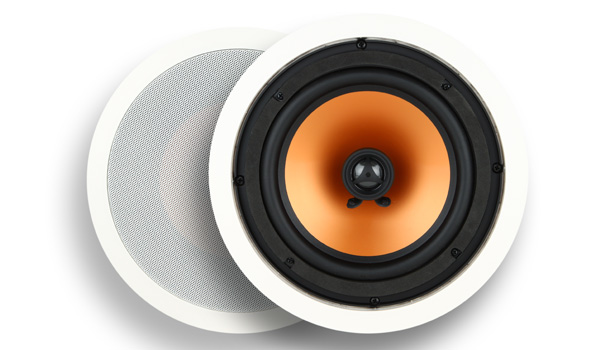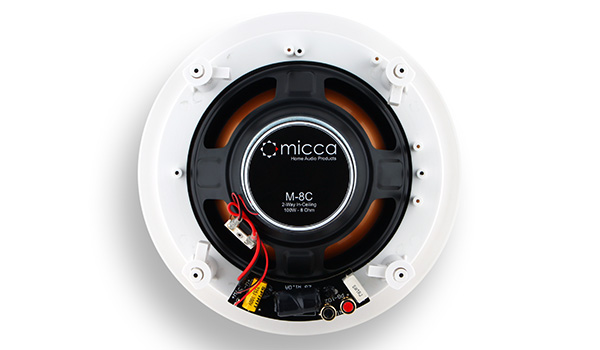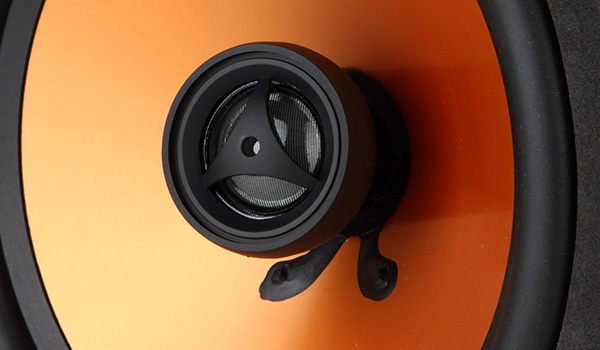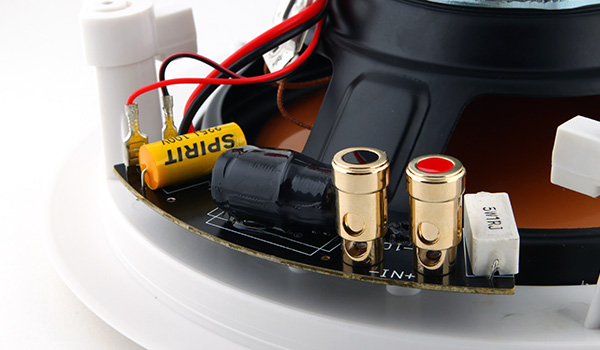 Dynamic and Balanced
The M-8C is a 2-way in-ceiling/wall speaker with a high excursion 8″ poly woofer and a 1″ soft dome tweeter in co-axial arrangement. This combination provides great flexibility in terms of application and suitability to different music tastes. In addition to smooth and natural vocals, the 8″ woofer is capable of robust bass output, allowing the M-8C to be used without a subwoofer in many installations. When a subwoofer is present, the extended bass capability of the M-8C ensures seamless integration at frequencies that smaller woofers simply can't reach.
The M-6C is shares the same design and features as the M-8C, but with a 6.5″ poly woofer instead for an overall more compact speaker.
Imaging and Clarity
The 1″ soft dome tweeter provides abundant detail and clarity, generating solid and focused imaging for all sound sources in a spacious sound stage. Designed for a broadened listening sweet spot, the tweeter employs a diffuser to assist off-axis response as well as a pivoting mechanism to achieve proper aiming. Perfect integration between the tweeter and woofer is achieved through a crossover network. Once installed and setup, the M-8C and M-6C project a realistic sound stage with excellent resolution.
M-8C Specifications:
Woofer: 8″ Mica-Filled Polypropylene Cone with Butyl Rubber Surround
Tweeter: 1″ Pivoting Silk Dome, Ferrofluid Cooled
Crossover: 6dB/Octave
Frequency Response: 40Hz-20kHz
Impedance: 8 Ohms
Sensitivity: 90dB 1W/1M
Power Handling: 100 Watts (Each)
Outer Dimension: 10.75″ Diameter
Cutout Dimension: 9.375″ Diameter
Mounting Depth: 3.6″
M-6C Specifications:
Woofer: 6.5″ Mica-Filled Polypropylene Cone with Butyl Rubber Surround
Tweeter: 1″ Pivoting Silk Dome, Ferrofluid Cooled
Crossover: 6dB/Octave
Frequency Response: 50Hz-20kHz
Impedance: 8 Ohms
Sensitivity: 87dB 1W/1M
Power Handling: 80 Watts (Each)
Outer Dimension: 9″ Diameter
Cutout Dimension: 7.625″ Diameter
Mounting Depth: 3″
User's Manual:
Micca M-8C M-6C User's Manual (opens in a new tab/window)
Have a question or encountered a problem using this product? Open an email support ticket: