Creating network folder shares under Windows 7
This tutorial describes how to create folder shares in Windows 7 without needing a password when accessed by Micca network-capable digital media players.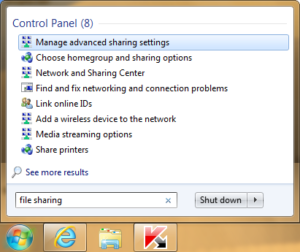 Step 1: Configure File Sharing
Click on Start and then type in "File Sharing" in the search box and select "Manage advanced sharing settings" in the list. (See image on the right for example).
In the "Advanced Sharing Settings" window, set the settings as follows:
Network discovery: Turn on
File and printer sharing: Turn on
Public folder sharing: Turn on
Password protected sharing: Turn off
Step 2: Copy Files Into Public Folders
The public folders are located in "C:\Users\Public" on your computer. Inside there are public folders for videos, pictures, music, and etc. Copy or move the media files you wish to share into these folders. Warning: Because these are public folders, everyone on your local network will be able to read/write to these folders. Take necessary precautions.
Step 4: Browse Files On Media Player
Reboot the player by disconnecting all power from the player and restarting it. Connect the media player to the network and select "Network" from the main menu to browse for available folder shares. Refer to the media player's user manual for additional details.
(Optional) Step 5: Sharing Other Folders
If you wish to share folders other than the "Public" folders, follow these steps:
Find the folder you wish to share
Right-click on the folder and choose "Properties".
In the "Sharing" tab, click on "Advanced Sharing".
Check "Share this folder", and then click on "Permissions".
If "Everyone" is not listed under "Group or user names", click on "Add" and type in "Everyone" and click "OK". Make sure "Everyone" has at least "Read" permission checked.

Click "OK" to accept changes until you get back to the "Sharing" tab.
Switch to the "Security" tab. If "Everyone" is not listed under "Group or user names", click on "Edit", then click "Add", type in "Everyone" and click "OK".

Click "OK" until all windows are closed.
Posted in: Micca 1186-Based Media Players - EP600 G2, EP950, Micca EP100, Micca MPLAY-HD WLAN